ALBERTO MARCI
LA NAVE CHE TI PORTA | MAR 10 - MAY 27 | 2022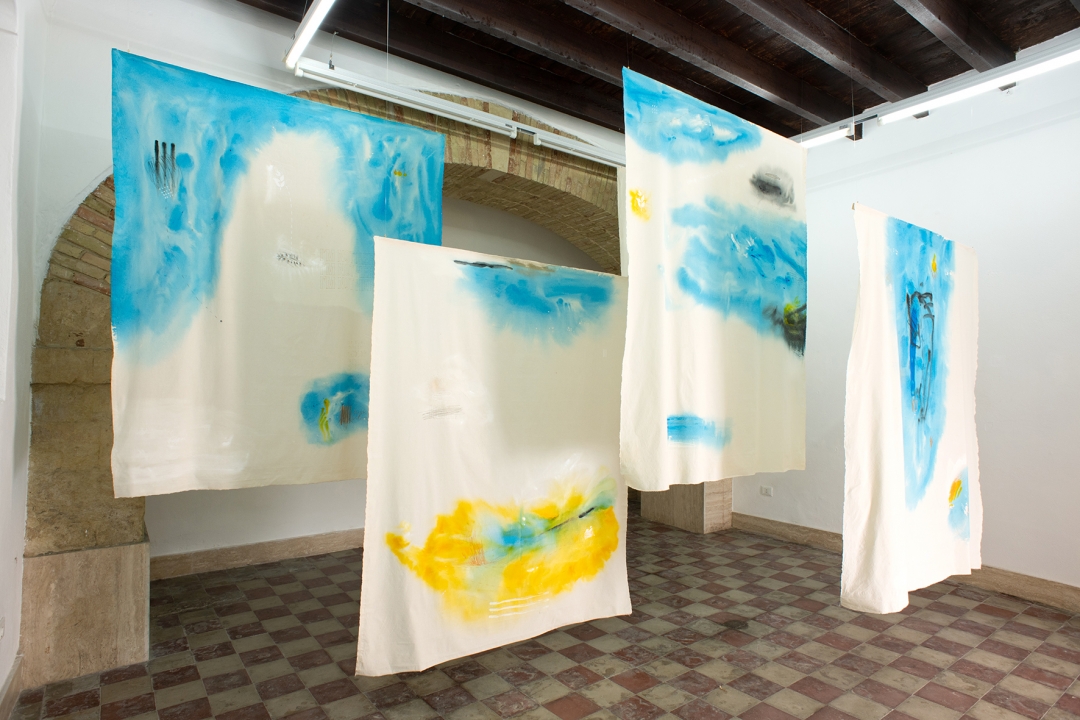 Galleria Macca è lieta di presentare La nave che ti porta, seconda mostra personale di Alberto Marci (Cagliari, 1985), e i testi critici di Efisio Carbone, Direttore Artistico del Museo MACC, e di Veronica Paretta, artista visiva. La mostra sarà visitabile dal 10 marzo al 27 maggio, ogni martedì, giovedì e venerdì dalle 19 alle 21, o su appuntamento. Nel rispetto delle disposizioni anti COVID-19 è consigliata la prenotazione a info@galleriamacca.com
LA NAVE CHE TI PORTA
Alberto Marci appare nel panorama artistico isolano come uno dei più dotati e qualificati delle giovani generazioni. Il suo percorso, sempre molto rigoroso, predilige il linguaggio della grafica e dell'incisione. Numerosi viaggi, residenze e borse di studio gli hanno permesso di approfondire nel tempo l'esperienza artistica aprendo la ricerca a costanti indagini territoriali e comunitarie.
La sua è sempre una poetica dello specchio che non cessa mai di considerare autobiografica forse per prendere le necessarie distanze da un parallelo percorso professionale.
Le capacità di Alberto Marci sono davvero notevoli, come evidenziano le serie in mostra: dalla serigrafia alla pittura gestuale fino alla sagomatura a laser, l'artista si serve di molteplici procedimenti ma tutto è condotto con estremo equilibrio estetico e sintesi concettuale, uniformato da una luce tonale che è ironica brezza vitale.
Il sorriso di Alberto solleva anche i pensieri più drammatici e ossessivi, feroci e paranoici, spesso annidati dentro forme liquide e li stende al sole, lascia che danzino la canzone del tempo.
La nave che ti porta sottolinea col suo passaggio l'orizzonte, tra acqua e cielo, come un dito che scorre sul libro della vita.
Alberto Marci dispiega le vele al vento per lasciarle attraversare da colore e segni. Tutto fluisce sotto i piedi, anche l'esistenza che lascia traccia di sé per pochi istanti prima di dissolversi nella spuma di mare.
La nave è salpata, il molo svanisce e l'aria salmastra continua a bruciare vecchie cicatrici e nuove ferite.
[Efisio Carbone]
______
Entrare nell'allestimento delle opere di Alberto Marci significa riportarsi in una situazione ambigua ma di grande serenità. Colori acerbi vibrano all'interno di uno spazio grande e pulito, si alternano e si sovrappongono toni caldi e freddi in una sorta di dolce combattimento tra tecniche calcografiche e tecniche pittoriche.
La nave che ti porta è il titolo di questa serie composta da tele finissime di cotone che si muovono libere, parole come ME e YOU sono state incise con una stampante laser, vengono sussurrate su grosse macchie blu e gialle come un mare aperto che ospita un corpo che galleggia. Alcuni elementi neri di stampo monotipo e serigrafico sono decisi, duri ed emergono su chiazze leggere di acquerello che quasi, come su una culla, cercano di essere trasportate in luogo sicuro. I colori, gli accostamenti e le composizioni giocano un ruolo importante nell'equilibrio cromatico dove l'armonia e il caos vivono una perfetta simbiosi.
La stesura dei colori ad acqua viene data come su carta d'acquerello, ricalcando su grande dimensione, la stessa vibrazione che emana questa tecnica, usata solitamente per abbozzare velocemente un paesaggio.
Alcune tele vengono lavorate in più riprese, campiture acquerellate vengono stese sulla tela bagnata, altre quando è asciutta, ricreando così delle stratificazioni riportate da diversi interventi.
Questo connubio di tecniche calcografiche e pittoriche ricrea atmosfere astratte e riporta sensazioni di unicità, di solitudine sconfinata e un continuo rimbalzare di tensioni.
Proseguendo l'installazione ci ritroviamo di fronte a due cerchi di carta di cotone. Sono due opere che compongono la serie Halo dove serigrafie e monotipi diventano protagonisti pur essendo seminascosti dalle tinte di alcune pennellate pittoriche. Le tecniche grafiche si sovrappongono l'una sull'altra con piccole immagini editabili che contengono impressi oggetti intimi e personali.
In questa lettura emergono sensazioni che non trovano margini nell'uso consapevole di affinate tecniche di stampa.
[Veronica Paretta]
BIO
Alberto Marci (Cagliari, 1985; vive e lavora a Cagliari), diplomato all'Accademia di Belle Arti di Firenze nella sezione Arti Visive e Discipline dello Spettacolo/Grafica d'Arte. Dal 1999 al 2009 partecipa ai Master's di sperimentazione e ricerca dell'atelier Casa Falconieri, è docente di grafica alla Fundación CIEC, Galizia. Artista segnalato nell'edizione 2006 del Premio di Grafica Pietro Parigi, nel 2008 e nel 2009 partecipa alle residenze sul libro d'artista alla Fondazione Stazione dell'Arte a Ulassai (Sardegna) in collaborazione con la Scuola Internazionale di Grafica di Venezia, e nel 2010 al festival IKASART II a Bilbao. Artista invitato per il 1° Encuentro Alfara-CIEC nello studio Alfara a Salamanca, selezionato per le residenze artistiche della Bienal de Cerveira in Portogallo. Dal 2015 al 2018 partecipa a vari programmi di residenze artistiche come ospite, tra i più importanti Progetto Borca a cura di Dolomiti Contemporanee, e La Ceiba Grafica a Coatepec (Messico). Attualmente sviluppa il proprio lavoro di ricerca e parallelamente si dedica all'insegnamento delle tecniche di stampa, all'editoria per altri artisti e a progetti speciali di design applicato all'editoria. Nel 2017 la sua prima mostra personale alla Galleria Macca, ha partecipato a varie mostre collettive. Le sue opere fanno parte di importanti collezioni istituzionali e private, italiane ed internazionali.
#GalleriaMacca #LaNaveCheTiPorta #AlbertoMarci
Galleria Macca is proud to present La nave che ti porta, by Alberto Marci (b. 1985), and the critical text by Efisio Carbone, Artistic Director of Museo MACC, and Veronica Paretta, visual artist. The exhibition will be open until Friday, 27th May 2022.
LA NAVE CHE TI PORTA | THE SHIP THAT CARRIES YOU
Alberto Marci is one of Sardinia's most gifted and qualified young artists. His extremely rigorous work, focuses especially on paper, graphics and engraving. Several journeys, artist's residences and scholarships have allowed him to deepen his artistic experience over time, opening his research to constant territorial and community investigations.
He never ceases to consider his work autobiographical, perhaps to take the necessary distance from a parallel professional career.
Alberto Marci's skills are truly remarkable, as shown in the series exhibited: from silk screen printing to gestural painting to laser shaping, the artist uses multiple techniques, but everything is conducted with extremely aesthetic balance and conceptual synthesis at the same time, harmonised by a tonal light that is an ironic vital breeze.
Alberto's smile raises even the most dramatic and obsessive, yet ferocious and paranoid thoughts, often nestled inside liquid forms, and spreads them out in the sun, letting them dance to the song of time.
La nave che ti porta | The ship that carries you underlines the horizon, floating by, between water and sky, like a finger that runs over the book of life.
Alberto Marci unfolds the sails to the wind to let color and signs through them. Everything flows under our feet, even the existence that leaves a trace of itself for a few moments before dissolving into the sea foam.
The ship has sailed, the dock vanishes, and the salty air continues to burn old scars and new wounds.
[Efisio Carbone]
______
Experiencing Alberto Marci's intallation means getting to an ambiguous situation, yet of great serenity. Immature colours vibrate within a large and clean space, alternating and overlapping warm and cold tones in a sort of sweet battle between chalcographic and painting techniques.
La nave che ti porta | The ship that carries you is also the title of the series composed of very fine cotton canvases meant to move freely, words like ME and YOU have been engraved with a laser printer, and are whispered on large blue and yellow spots like a body floating peacefully in the open sea. Some black elements of monotype and silk-screen printing are decisive, hard and emerge on light splashes of watercolor that almost try to be transported to a safe place, like a baby on a crib. Colours, combinations and compositions play an important role in the chromatic balance where harmony and chaos live in perfect symbiosis.
The watercolours are used as on watercolour paper, tracing - on a large scale - the same vibration that this technique emanates, usually used to quickly sketch a landscape.
The canvases are worked at different stages, some watercolours are used on a wet canvas, others when it is dry, thus recreating the stratifications reported by various interventions.
This combination of chalcographic and pictorial techniques recreates abstract atmospheres and brings back feelings of uniqueness, boundless solitude and a continuous rebound of tensions.
Inside the small room of the Gallery we are faced with two circles of cotton paper floating in the air. Two works part of the Halo series where serigraphs and monotypes become protagonists despite being half-hidden by the colours of some brushstrokes. The graphic techniques are superposed with small editable images of intimate and personal objects.
The conscious use of refined printing techniques do not impede endless sensations to emerge.
[Veronica Paretta]
BIO
Alberto Marci (Cagliari, 1985; lives and works in Cagliari, Italy), graduated from the Academy of Fine Arts in Florence in the Visual Arts and Performing Arts / Graphic Arts section. From 1999 to 2009 he collaborated with Casa Falconieri, he teaches Graphics at the Fundación CIEC, Spain. Selected in the 2006 edition of the Pietro Parigi Graphics Award, in 2008 and 2009 he participated in the residencies at Stazione dell'Arte (Sardinia) in collaboration with the International School of Graphics of Venice, and in 2010 at the Festival IKASART II in Bilbao. Invited to the 1st Encuentro Alfara-CIEC in the Alfara studio in Salamanca, selected for the artistic residences of the Bienal de Cerveira in Portugal. From 2015 to 2018 he participated in various artistic residency programs as a guest, among the most important, Progetto Borca curated by Dolomiti Contemporanee, and La Ceiba Grafica in Coatepec (Mexico). He currently develops his own research work and at the same time dedicates himself to teaching printing techniques, publishing for other artists and special design projects applied to publishing. In 2017 his first solo show at Galleria Macca, he participated in various group shows. His works are part of important institutional and private collections, both Italian and international.
Attachments