PAULINA HERRERA LETELIER E ALBERTO MARCI
PA223 | MAY 4 - JUNE 22 | 2023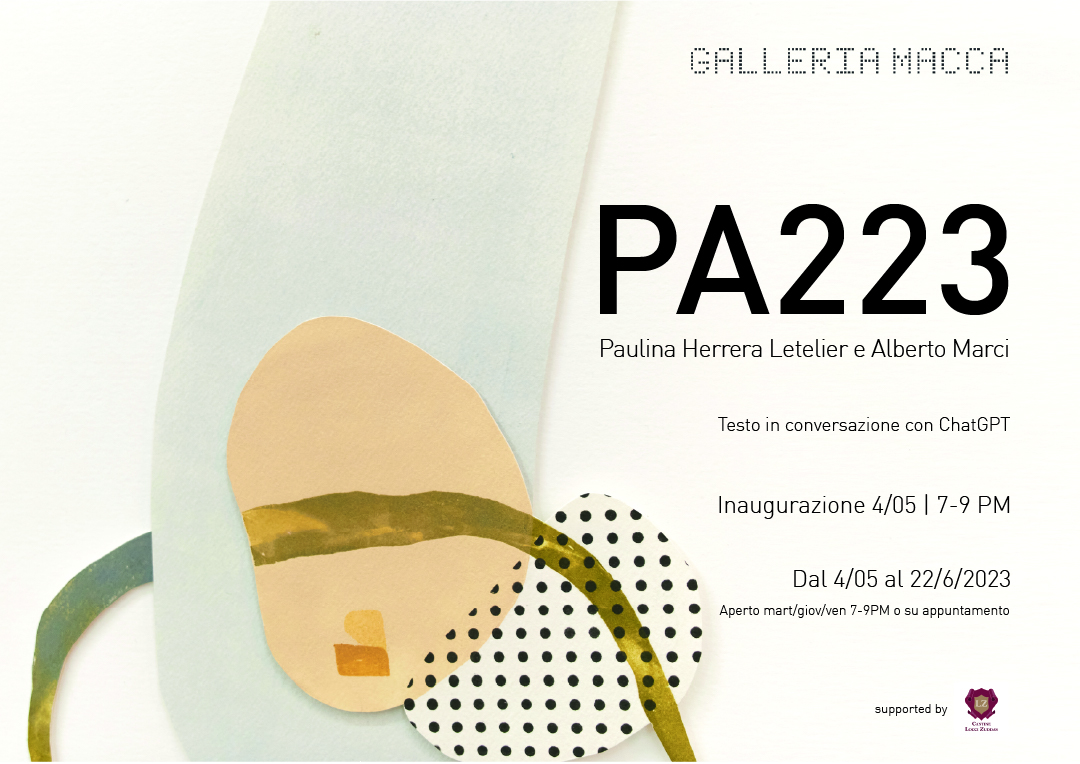 Galleria Macca è lieta di presentare PA223, un progetto site-specific di Paulina Herrera Letelier (Santiago de Chile, 1978; vive e lavora a Cagliari) e Alberto Marci (Cagliari, 1985), e il testo in conversazione con ChatGPT (ArtificiaI Intelligence, 2023). La mostra sarà visitabile dal 4 maggio al 22 giugno 2023, ogni martedì, giovedì e venerdì dalle 19 alle 21, o su appuntamento. Ringraziamo Cantina Locci Zuddas per il prezioso supporto.




PA223
Paulina Herrera Letelier | Alberto Marci
La mostra PA223 presenta il frutto della collaborazione artistica tra Paulina Herrera Letelier e Alberto Marci, nata nel 2021 quando i due artisti hanno iniziato a incontrarsi per sperimentare con forme assemblate in modo quasi casuale, utilizzando tecniche di stampa. Dopo aver lasciato il lavoro in sospeso, quest'anno hanno deciso di riprendere le forme e di destrutturarle.
Le opere risultanti sono prevalentemente su carta, pezzi unici lavorati utilizzando lastre di recupero mescolate e sovrapposte. Le forme che emergono sembrano sfuggire e sovrapporsi, con forme organiche che si intersecano con forme geometriche, creando interferenze nella leggerezza dell'immagine. Alcune opere sono poi state ritagliate e assemblate in livelli.
L'allestimento per la Galleria Macca comprende anche due sculture in gesso e altri materiali che ripropongono le forme dei lavori su carta portandole a una terza dimensione ed esasperandole. A completare l'esposizione ci sono dei multipli editati in serigrafia, una piccola cartella di tre opere che gioca con le forme delle opere uniche su carta.
Il lavoro di Marci ed Herrera Letelier vede l'importanza della casualità nell'immagine e come questa possa essere modificata e arrangiata. Le forme in continua evoluzione delle opere dei due artisti giocano tra di loro, portandoci a un'esperienza visiva coinvolgente, scontrandosi e intrecciandosi per creare nuovi significati, sensazioni e visioni.
[ChatGPT]
BIO
Paulina Herrera Letelier (Santiago de Chile, 1978; vive e lavora a Cagliari), Architetto, designer, artista poliedrica, il suo lavoro si concentra sulla percezione dinamica dello spazio architettonico e del suo ambiente circostante, mescolando materiali e tecniche artigianali. Nel 2018 ha svolto due residenze artistiche importanti, alla Fondazione MACC (nel Sulcis, in Sardegna) e al Progetto Borca (Borca di Cadore in Veneto), e la sua prima mostra istituzionale al Museo MACC. Nel 2019 la sua prima personale alla Galleria Macca. Ha svolto diverse residenze artistiche, e ha partecipato a varie fiere d'arte contemporanea e di design in Italia e all'estero. Ha vinto numerosi premi, e il suo lavoro è presente in collezioni private e istituzionali, nazionali ed internazionali.
Alberto Marci (Cagliari, 1985; vive e lavora a Cagliari), diplomato all'Accademia di Belle Arti di Firenze nella sezione Arti Visive e Discipline dello Spettacolo/Grafica d'Arte. Dal 1999 al 2009 partecipa ai Master's di sperimentazione e ricerca dell'atelier Casa Falconieri, è docente di grafica alla Fundación CIEC, Galizia. Artista segnalato nell'edizione 2006 del Premio di Grafica Pietro Parigi, nel 2008 e nel 2009 partecipa alle residenze sul libro d'artista alla Fondazione Stazione dell'Arte a Ulassai (Sardegna) in collaborazione con la Scuola Internazionale di Grafica di Venezia, e nel 2010 al festival IKASART II a Bilbao. Artista invitato per il 1° Encuentro Alfara-CIEC nello studio Alfara a Salamanca, selezionato per le residenze artistiche della Bienal de Cerveira in Portogallo. Dal 2015 al 2018 partecipa a vari programmi di residenze artistiche come ospite, tra i più importanti Progetto Borca a cura di Dolomiti Contemporanee, e La Ceiba Grafica a Coatepec (Messico). Attualmente sviluppa il proprio lavoro di ricerca e parallelamente si dedica all'insegnamento delle tecniche di stampa, all'editoria per altri artisti e a progetti speciali di design applicato all'editoria. Nel 2017 la sua prima mostra personale alla Galleria Macca, ha partecipato a varie mostre collettive. Le sue opere fanno parte di importanti collezioni istituzionali e private, italiane ed internazionali.
#GalleriaMacca #PA223 #AlbertoMarci #PaulinaHerreraLetelier
Galleria Macca is proud to present PA223, a site-specific project by Paulina Herrera Letelier (Santiago de Chile, 1978; lives and works in Cagliari) and Alberto Marci (Cagliari, 1985; lives and works in Cagliari), and the text by ChatGPT. The exhibition will be open until Thursday, 22nd June 2023.
PA223
Paulina Herrera Letelier | Alberto Marci
PA223 presents the result of the artistic collaboration between Paulina Herrera Letelier and Alberto Marci, started in 2021 when the two artists began to experiment with forms assembled almost randomly, using printing techniques. After leaving the work unfinished, this year they decided to resume the forms and deconstruct them.

The resulting works are mainly on paper, unique pieces made using mixed and overlapping recovery plates. The emerging shapes seem to escape and overlap, with organic forms intersecting with geometric shapes, creating interferences in the lightness of the image. Some works have then been cut out and assembled in layers.

The installation for Galleria Macca also includes two sculptures made of plaster and other materials that reproduce the shapes of the works on paper, almost as if they were their "third dimension" and exacerbating them. To complete the exhibition, there is an edition of serigraphs, a set of three works that play with the shapes of the unique works on paper.

Marci and Herrera Letelier's work reckons the importance of randomness in the image and how it can be modified and arranged. The constantly evolving forms of the two artists' works play with each other, leading us to an engaging visual experience, colliding and intertwining to create new meanings, sensations, and visions.
[ChatGPT]
BIO
Paulina Herrera Letelier (Santiago de Chile, 1978; lives and works in Cagliari), graduated in Architecture at the Universidad Central in Chile. Since 2005 she has lived in Cagliari. Her work spans from visual arts, architecture and design, to carrying out a single artistic research based on the perception of moving space and on the relationship between physical space and the individuals who inhabit it. She has taken part in various artists' residencies, and contemporary art and design fairs. In 2019 her first solo show at Galleria Macca. Her work has been shown extensively and is part of public and private collections, both Italian and International.
Alberto Marci (Cagliari, 1985; lives and works in Cagliari, Italy), graduated from the Academy of Fine Arts in Florence in the Visual Arts and Performing Arts / Graphic Arts section. From 1999 to 2009 he collaborated with Casa Falconieri, he teaches Graphics at the Fundación CIEC, Spain. Selected in the 2006 edition of the Pietro Parigi Graphics Award, in 2008 and 2009 he participated in the residencies at Stazione dell'Arte (Sardinia) in collaboration with the International School of Graphics of Venice, and in 2010 at the Festival IKASART II in Bilbao. Invited to the 1st Encuentro Alfara-CIEC in the Alfara studio in Salamanca, selected for the artistic residences of the Bienal de Cerveira in Portugal. From 2015 to 2018 he participated in various artistic residency programs as a guest, among the most important, Progetto Borca curated by Dolomiti Contemporanee, and La Ceiba Grafica in Coatepec (Mexico). He currently develops his own research work and at the same time dedicates himself to teaching printing techniques, publishing for other artists and special design projects applied to publishing. In 2017 his first solo show at Galleria Macca, he participated in various group shows. His works are part of important institutional and private collections, both Italian and international.
#GalleriaMacca #PA223 #AlbertoMarci #PaulinaHerreraLetelier