SASHA ROSHEN
CAMOUFLAGE | FEB 24 - APR 6 | 2023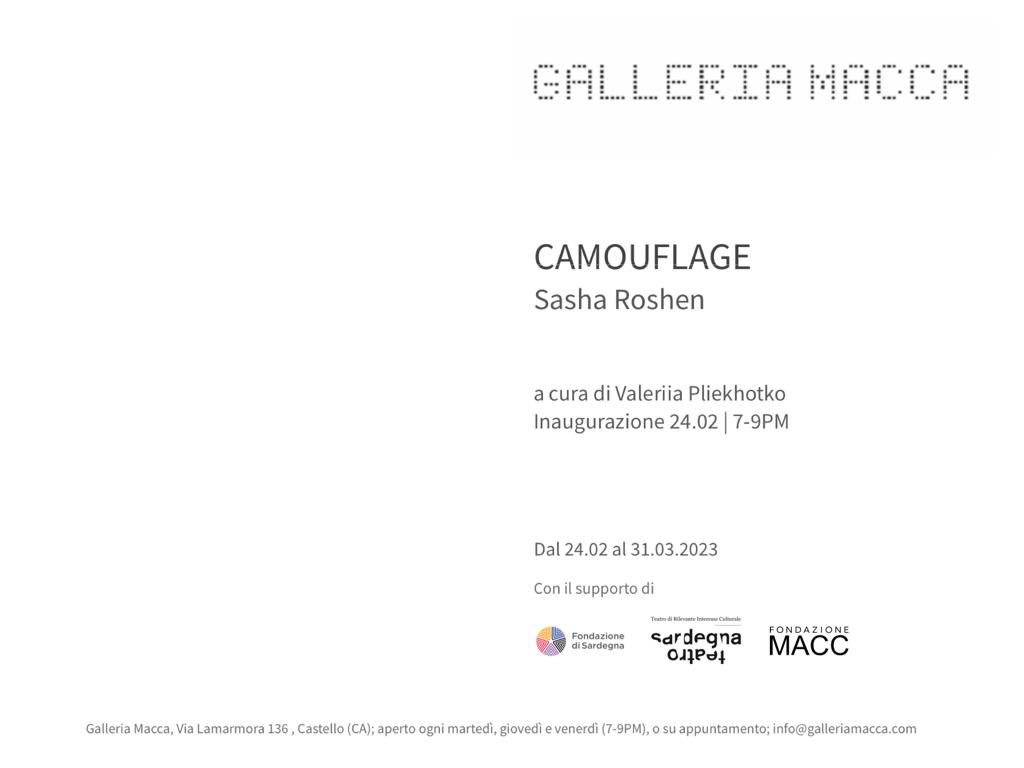 Galleria Macca è lieta di presentare Camouflage, di Sasha Roshen (Kharkiv, 1996) a cura di Valeriia Pliekhotko (Odessa, 1996), Curatore Indipendente. La mostra sarà visitabile dal 24 febbraio al 6 aprile, ogni martedì, giovedì e venerdì dalle 19 alle 21, o su appuntamento. Ringraziamo Fondazione di Sardegna, Sardegna Teatro, e Fondazione MACC per il prezioso supporto.
Sasha Roshen
Camouflage
La mostra Camouflage di Sasha Roshen, impone una seria riflessione sul significato della guerra e quanto questa possa influire sulla poetica e il processo creativo di un artista. Sasha è un pittore straordinario che ha voluto riversare sulla tela un suo forte omaggio alle comunità Ukraine, impegnate anche in questo momento a proteggere e difendere il proprio Paese. Lui lo fa da artista, facendosi ambasciatore lontano da casa con il preciso compito di sensibilizzarci tutti. Oltre i mass media, la politica, le riflessioni intellettuali, arriva la sua delicata pittura, paesaggi dell'anima che cambiano colore con le stagioni, descrivono mani laboriose e canti corali che coprono per un istante il suono delle bombe. Non c'è retorica, non ci sono esclamazioni, silenziosa eterea la pittura scorre sulla tela bianca per farne un luogo di protezione: l'arte è forza, resistenza, compassione, verità. Non rappresenta ma è. Questa pittura non cede una goccia di colore all'estetica. Rendiamoci conto che non troveremo facilmente qualcosa di più vero di queste grandi tele che si pongono a trincea dentro gli spazi della Galleria Macca.
Come Fondazione MACC intendiamo prolungare la preziosa presenza di Sasha e di Valeriia sull'isola, iniziata nell'ambito del progetto Et in Arcadia Ego, residenza per artisti Ukraini in dialogo con artisti Italiani, voluta e sostenuta da La Quadriennale di Roma in collaborazione con Fondazione di Sardegna, Sardegna Teatro e Sardegna Film Commission, tenutasi presso gli spazi di Sa Manifattura di Cagliari nel 2022, proponendo un progetto di residenza a Calasetta con il sostegno della Regione Sardegna e della Fondazione di Sardegna.
[Efisio Carbone, Direttore del Museo MACC di Calasetta]
_____
A un anno dall'inizio della guerra in Ukraina non possiamo non confermare che dietro a tutti gli eventi storici ci siano persone comuni in grado di sovvertire e cambiare il corso della storia.
In questo contesto storico è nato il progetto "Camouflage", di Sasha Roshen, durante la fase attiva della guerra russo-ukraina. La rete mimetica è comunemente utilizzata per nascondere attrezzature e fortificazioni militari. Con l'inizio dell'invasione Russa il 24 febbraio 2022, iniziarono a formarsi molto rapidamente organizzazioni di volontari che sopperivano alle varie esigenze dei militari. Si raccoglievano fondi, consegnati mezzi e attrezzature necessarie alle varie divisioni dell'esercito, ma venivano anche prodotti a mano certi articoli mancanti... come le reti mimetiche, formate da strisce pretagliate di tessuto intrecciate su reti da pesca.
Roshen si è interessato a questa pratica dopo aver ascoltato i racconti di sua madre che, rientrata a Kyiv nel maggio del 2022, ha iniziato a fare volontariato e a tessere tele mimetiche. La madre di Sasha ha inviato foto, ha documentato il processo produttivo e ha condiviso le sue impressioni: diversi volontari lavorano contemporaneamente su una rete. Dopo un po' di tempo, ogni persona si abitua a ricreare un certo schema sulla rete... tutti i partecipanti alla composizione di una tela diventano così coautori del prodotto, ed è come se vi apportassero anche la propria firma. Questo li rende simili agli artisti, e la rete mimetica si può definire un'opera collettiva. La tavolozza con cui viene realizzata la rete cambia a seconda della stagione. Tonalità calde del verde e del marrone in primavera e in estate, sostituite da tonalità fredde del marrone e del grigio in autunno e in inverno. Lo stesso processo di mascheramento è tipico degli animali. La maggior parte di loro lo usa per proteggere la propria vita dai predatori. Proprio come la realizzazione di reti mimetiche da parte di persone comuni di ogni strato sociale, è percepita come qualcosa che aiuterà a salvare le loro vite.
[Valeriia Pliekhotko]
BIO
Sasha Roshen, nato nel 1996 a Kharkiv, vive e lavora a Kyiv. Nel 2016 si è diplomato in Pittura presso il dipartimento di Belle Arti della Scuola delle Arti di Kharkiv. Nel 2020 ha conseguito la laurea presso il Dipartimento di Scenografia dell'Accademia Nazionale di Belle Arti e Architettura. Nel 2017 ha completato con successo il corso per artisti all'Accademia delle Arti Media di Kyiv. Tra il 2017 e il 2019 è stato membro del gruppo artistico "STO" (letteralmente "stazione di servizio", in Ukraino). Nella sua pratica artistica si confronta principalmente con la pittura e la grafica come strumenti capaci di reagire con immediatezza alle situazioni politiche e sociali del momento presente.
Valeriia Pliekhotko, nata a Odessa nel 1996. Nel 2021 si è laureata in Studi Culturali presso la Kyiv Mohyla Academy. Nel 2022 si è specializzata alla School for Curatorial Studies di Venezia. Curatore indipendente, art-manager, editorialista, tutor. Valeriia ha lavorato in collaborazione con il Museum of Odessa Modern Art, IZOLYATSIA: Platform for Cultural Initiatives, ONG Dzherelo, British Council, Goethe-Institut, Nova Opera. Tra i progetti recenti, Valeriia ha gestito lo spazio indipendente Dzherelo Art Pavilion gestito da artisti in cubi di vetro indipendenti a Kiev, ha curato la mostra personale "Not Forever" dell'artista ucraina Mariia Mytrofanova a Cracovia, e ha curato il progetto Et in Arcadia Ego, residenza per artisti Ukraini in dialogo con artisti Italiani, organizzato da La Quadriennale di Roma.
#GalleriaMacca #Camouflage #SashaRoshen
Galleria Macca is proud to present Camouflage, by Sasha Roshen (Kharkiv, 1996) curated by Valeriia Pliekhotko (Odessa, 1996), Indipendent Curator. The exhibition will be open until Friday, 6th April 2023. We adknowledge the support of Fondazione di Sardegna, Sardegna Teatro, and Fondazione MACC.
Sasha Roshen
Camouflage


Sasha Roshen's exhibition unleashes a serious reflection on the meaning of war, and how much it can influence the poetics and creative process of an artist. Sasha is an extraordinary painter who wanted to pour onto the canvas his strong homage to the Ukrainian communities, always committed to protect and defend their own country. He does it as an Artist, becoming an Ambassador with the specific task of raising awareness for us all. Beyond the mass media, politics, intellectual reflections, comes his delicate painting, landscapes of the soul that change color with the seasons, they describe hard-working hands and choral songs that drown out the sound of bombs for an instant. There is no rhetoric, there are no exclamations, silent ethereal painting flows on the canvases to create a protective space: art is strength, resistance, compassion, truth. It does not represent, but it is. This painting does not sacrifice a drop of color to the aesthetics. We ought to realise that we will not easily find something truer than these large canvases that are placed as trenches inside Galleria Macca.
Together with Fondazione MACC we would like to extend the precious presence of Sasha and Valeriia on the Island, which began as part of Et in Arcadia Ego, a residency project for Ukrainian artists in dialogue with Italian artists, organised by La Quadriennale di Roma in collaboration with Fondazione di Sardegna, Sardegna Teatro and Sardinia Film Commission, held at the spaces of Sa Manifattura in Cagliari in 2022 with the experience of the residency wanted and supported by the Rome Quadriennale in collaboration with the Sardinia and Sardinia Theater Foundation and Sardinia Film Commission, held at Sa Manifattura in Cagliari in 2022, by proposing a residency in Calasetta with the support of Regione Sardegna and Fondazione di Sardegna.
[Efisio Carbone, Director - Museo MACC]
_____
One year after the start of the war in Ukraine we cannot fail to confirm that behind all historical events there are ordinary people capable of subverting and changing the course of history.
In this historical context, Sasha Roshen started his "Camouflage" project during the active phase of the Russian-Ukrainian war. Camouflage netting is commonly used to conceal military equipment and fortifications. With the start of the Russian invasion on February 24, 2022, volunteer organizations began to form very early on to cater for the various needs of the military. Funds were raised, necessary means and equipment delivered to the various army divisions, but certain missing items were also produced by hand... such as camouflage nets, made up of pre-cut strips of fabric woven on fish nets.
Roshen became interested in this practice after hearing stories from his mother who, back in Kyiv in May 2022, started volunteering and weaving camouflage nets. Sasha's mother sent photos, documented the manufacturing process and shared her impressions: several volunteers work on one net at the same time. After a while, each person gets used to recreating a certain pattern on the net... all the participants in the composition of a canvas thus become co-authors of the product, and it is as if they also put their own signature to it. This process makes them similar to Artists, and the camouflage net can be defined as a collective work. The palette with which the net is made changes according to the seasons. Warm shades of green and brown in spring and summer, replaced by cooler shades of brown and gray in autumn and winter. This disguising ability is typical for animals too. Most of them use it to protect their lives from predators. Just like camouflage nets made by ordinary people, it is perceived as something that will help them save their lives.
[Valeriia Pliekhotko]


BIO
Sasha Roshen, (b. 1996, Kharkiv - Ukraine), lives and works in Kyiv. Graduated in Painting at the Fine Arts Department of the Kharkiv School of Arts in 2016 and in 2020 at the Department of Scenography of the National Academy of Fine Arts and Architecture. In 2017 he successfully completed the artist course at the Academy of Media Arts in Kyiv. Between 2017 and 2019 he was a member of the artistic group "STO" (meaning "service station", in Ukrainian). In his artistic practice he is mainly interested in painting and graphics as tools capable of reacting immediately to the political and social situations of the present time.

Valeriia Pliekhotko, born in Odessa in 1996. In 2021 she graduated in Cultural Studies at the Kyiv Mohyla Academy. In 2022 she specialised at the School for Curatorial Studies in Venice. Independent curator, art-manager, columnist, tutor. Valeriia has worked in collaboration with the Museum of Odessa Modern Art, IZOLYATSIA: Platform for Cultural Initiatives, NGO Dzherelo, British Council, Goethe Institut, Nova Opera. Among recent projects, Valeriia has managed the independent space Dzherelo Art Pavilion run by artists in independent glass cubes in Kiev, curated the solo exhibition "Not Forever" by Ukrainian artist Mariia Mytrofanova in Krakow, and curated the project Et in Arcadia Ego, residency for Ukrainian artists in dialogue with Italian artists, organized by La Quadriennale di Roma.
Attachments