ALIENA COMUNE
FEB 18 - APR 30 | 2021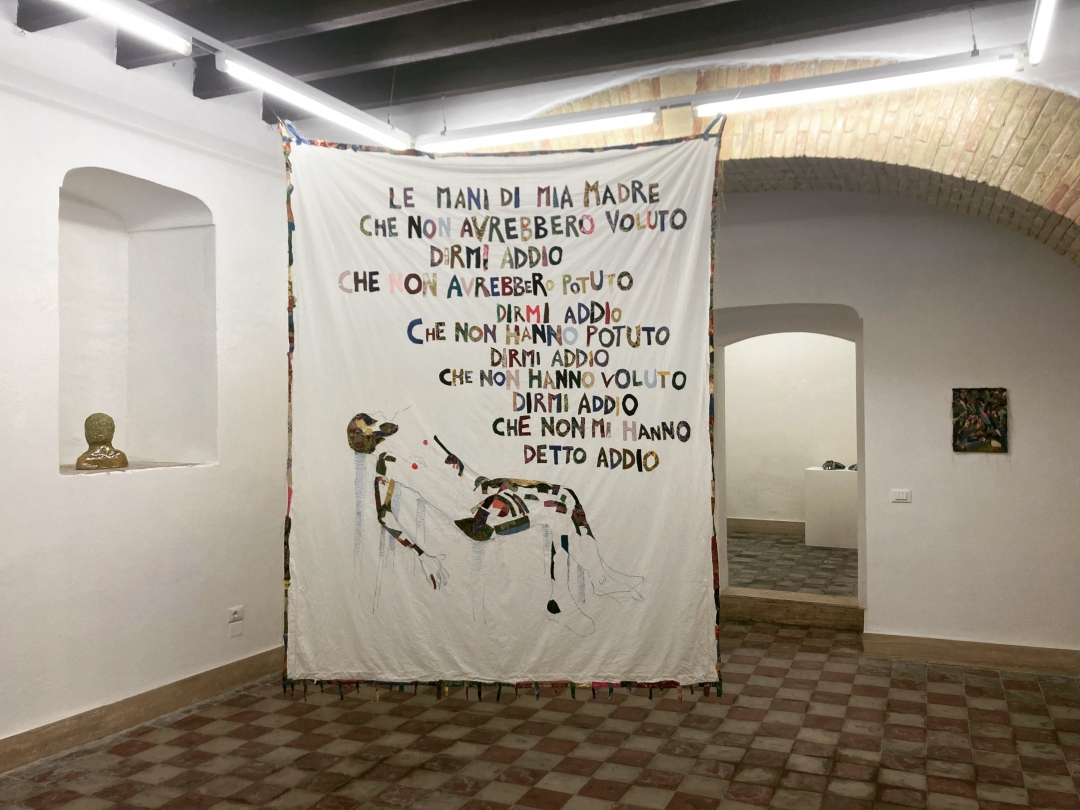 Galleria Macca è lieta di presentare Aliena Comune, group show con Ruben Montini (Oristano, 1986), Irene Balia (Iglesias, 1985), Veronica Paretta (Cagliari, 1986) e Giusy Pirrotta (Reggio Calabria, 1982), e il testo critico di Efisio Carbone, Direttore Artistico del Museo MACC.
La mostra sarà visitabile dal 18 febbraio al 30 aprile, ogni martedì, giovedì e venerdì dalle 18 alle 20, o su appuntamento. Nel rispetto delle disposizioni anti COVID-19, e per evitare assembramenti, l'ingresso sarà consentito ad un massimo di 6 persone per volta, ed è perciò fortemente consigliata la prenotazione a info@galleriamacca.com
ALIENA COMUNE
Se fossimo capaci di ascoltare il prossimo, scopriremmo di non essere poi così soli. Le esperienze di vita sono molto comuni, sono solo vissute diversamente, forse, meglio ancora, raccontate diversamente.
Timori, pudori, fragilità ognuno ha i motivi suoi.
Ma oggi, solo per oggi, giusto per iniziare, alziamo le mani e dichiariamoci "fuori di proposito", dichiariamoci alieni.
Le nostre mani sono mani che pensano e cantano, coraggiose, solitarie nelle moltitudini, tra altre mani che si somigliano e che contano, scavano, raccolgono e si lavano nei pensieri sorgivi e paludosi.
Oh dolci mani, mansuete e pure, canta Cavaradossi tenendo quelle insanguinate di Tosca che ha ucciso per amore di sé, per amore di lui, ha trovato il coraggio lei, tragica eroina, pronta all'atto estremo del suicidio.
MADRI
Nel "Vangelo Secondo Matteo", Pasolini sceglie la sua per interpretare Maria che si addolora lungo il calvario del figlio, glielo uccideranno e lei lo sa; da molto tempo è pronta: lo sguardo malinconico che porta nell'umile cella di Fra Angelico mentre l'Angelo impietoso le svela le Scritture, ha raccolto già tutto.
Dentro la tua grazia nasce la mia angoscia - scrive Pasolini, destinando la sua vita alla solitudine per il troppo amore verso la madre.
Figlio, l'alma t'è uscita, figlio de la smarrita, figlio de la sparita... dov'è questa madre che piange il figlio nell'opera di Ruben Montini? Lontana lascia un corpo soffocato insieme a tante storie di morti solitarie di un mondo in pandemia. Montini esalta, con la sua poetica, la forza della tragedia senza tempo spingendo ai limiti la condizione di maternità sia essa vissuta o negata. Ma la riflessione, proiettandosi fuori di sé, coinvolge tre artiste che restituiscono una visione personalissima del tema regalandoci un caleidoscopico risultato in un allestimento corale dalla complessa regia.
MANI
Le mani, in Ruben Montini, raccontano, pregano, dicono oltre le bocche serrate, intrecciano amuleti sacri come i Nudeus sardi, reliquiari cuoriformi con frammenti di broccato benedetto e ritagli di preghiere per ottenere perdono oltre la morte; mani impietose che abbandonano un corpo straziato dove il marmo non è più carne tra le dita di una madre senza età.
Perinde ac cadaver è il corpo rannicchiato di Veronica Paretta circoscritto in uno spazio al limite del corporeo, senza fiato, trasportato dai tumulti della vita. Il corpo resiste, il pensiero sopravvive, l'artista non cessa di pulsare; il frottage dona alle opere una matrice performativa, chiave di volta dell'intera composizione astratto-realistica.
Mani e testa per una lettura apotropaica di Giusy Pirrotta, le sue ceramiche, cariche di simbologie, guardano ad un oriente familiare, un sud barocco illuminato dalla storia e dalla mitologia; l'abilità nel modellare e domare il fuoco racconta di botteghe straordinarie dove le mani passavano la loro esperienza di generazione in generazione.
Irene Balia sotto le acque tempestose, trova nobile semplicità e quieta grandezza di winckelmaniana memoria, quanto serve per rappresentare un albero genealogico familiare tutto al femminile; decorazioni marine e impenetrabili rimandi a relazioni multi-livello rendono, per certi versi, l'opera contemplabile ma inaccessibile.
[Efisio Carbone]
#GalleriaMacca #AlienaComune #RubenMontini #IreneBalia #VeronicaParetta #GiusyPirrotta


BIO
Ruben Montini (Oristano, 1986; vive e lavora a Verona), spaziando dall'uso della performance dal vivo alla realizzazione di opere oggettuali per lo più tessili, il suo lavoro si caratterizza per un uso radicale del corpo e una continua messa in discussione del pensiero collettivo. L'aspetto più politico delle sue azioni si intreccia ai toni più romantici, a tratti nostalgici, degli arazzi che lui stesso realizza, riecheggiando la performance femminista da un lato e un fare più domestico dall'altro. Le sue riflessioni, che si concretizzano in azioni effimere e in tessuti carichi d'oro e tradizione, sono una testimonianza costante di "cosa significhi nascere froci in un mondo etero" (cit. L. Bernini).
Il suo lavoro è stato esposto in numerose mostre internazionali, in istituzioni pubbliche e private. Tra le altre: Museum Arnhem, Olanda; Casino Luxembourg, Lussemburgo; Rupert, Vilnius; FdG Projects, Bruxelles; ATOPOS cvc, Atene; Villa Adriana, Tivoli; House of the Arts, Brno e Aleš South-Bohemian Gallery, Hluboká nad Vltavou, Repubblica Ceca; Fondazione MACC, Calasetta; MAN_Museo d'Arte Provincia di Nuoro; Museum Europäischer Kulturen, Berlino; Museum for Contemporary Art Ujazdowski Castle, Varsavia; Museo Ettore Fico, Torino; Oratoire du Louvre, Parigi. Nel 2019 è stato nominato per il XX Premio Cairo, Palazzo Reale, Milano. Recentemente ha fondato nella sua casa-studio sul Lago di Garda, CONFINO, un artist-run space che si prefigge di ospitare una programmazione interamente dedicata ai giovani artisti gay italiani o che vivano in Italia stabilmente.
Irene Balia (Iglesias, 1985; vive e lavora a Milano), diplomata all'Accademia di Sassari nel 2009. Nel 2013 inaugura la sua prima personale, Hortus Conclusus, a Milano al Circoloquadro. Nello stesso anno è finalista al premio CO.CO.CO. Contemporary Contest Como, al Premio Michetti, e l'anno successivo al Premio Lissone. Nel 2017 realizza un murale presso la Cittadella degli Archivi di Milano. Nel 2019 partecipa alla collettiva "Un'altra primavera" presso il Castello di Oldofredi a cura di Casa Testori. Nel 2020 partecipa al Programma di Residenze Internazionali della Fondazione MACC di Calasetta, espone al Museo Nivola in occasione della collettiva "Back_Up |Giovane Arte in Sardegna", e alla Galleria Macca a Cagliari. Ha fatto parte del progetto di Enzo Cannaviello "Nuova Pittura Italiana". Le sue opere fanno parte di collezioni pubbliche e private, sia nazionali che internazionali. Nei suoi lavori ricrea un ambiente domestico, uno spazio di intimità statico e calmo, la sensazione di un attimo dilatato. I quadri si trasformano in fotogrammi, frammenti di una sfera personale che si allontanano dalla dimensione del presente diventando irraggiungibili. Tutto è ricomposto tramite geometrie e ricami. Non esiste una prospettiva spaziale ma solo una dimensione emotiva, un'atmosfera onirica e simbolica.
Veronica Paretta (Cagliari, 1986; vive e lavora a Cagliari), nel 2011 si diploma in Pittura all'Accademia di Belle Arti di Bologna, e al suo rientro in Sardegna espone la sua prima personale alla Galleria Capitol di Cagliari, una mostra antologica con opere eseguite dal 2005 al 2011. Nello stesso anno partecipa alla 54a edizione della Biennale di Venezia, Padiglione Italia nella Sala Nervi di Torino. Nel 2013 e nel 2016 ottiene due residenze d'artista presso il laboratorio d'incisione di Casa Falconieri a Cagliari e partecipa alla mostra "Geografie del Segno" al Museo Nivola, Orani. Continua la sua ricerca artistica mirata sia ai linguaggi pittorici che incisori. Nel 2016 espone una personale dal titolo "Esercizi di Disegno Libero"; Febbraio 2017 un'altra personale "Sublime Lineam" alla Galleria Macca di Cagliari, quest'ultima una mostra che ha riportato sia opere pittoriche che calcografiche. Tra il 2016 e il 2018 espone in diverse collettive in Sardegna; al salone del libro di Torino e ArtMadrid; è docente di laboratorio durante i corsi di incisione curati da Casa Falconieri svolti nelle scuole pubbliche e nei musei civici di Cagliari; partecipa alla mostra internazionale "On Paper" al Museo MACC di Calasetta. Nel 2019 la sua seconda personale alla Galleria Macca. Le sue opere si trovano in collezioni private e pubbliche sia in Italia che all'estero.
Giusy Pirrotta (Reggio Calabria, 1982; vive e lavora a Milano), il suo lavoro comprende l'uso di film, video, fotografia, ceramica, stampa su tessuto e carta da parati. Realizza istallazioni site-specific di carattere immersivo e oggetti scultorei prevalentemente in ceramica. Il suo lavoro esplora il limite tra arti visive, craft e design. Frequenta l'Accademia di Belle Arti di Firenze, si trasferisce a Londra dove vive per 8 anni e frequenta il Master of Fine Arts al Central Saint Martin College of Arts and Design, dove ha la possibilità di usare la pellicola come strumento per analizzare la materialità dell'immagine in movimento. È poi ricercatrice presso l'UCA University for the Creative Arts/University of Brighton con il progetto di dottorato "Moving Image and the Space around the Frame: Time-based Installations and Forms of Experience". Recenti mostre collettive "Tree Time", curata da Andrea Lerda, Muse Museo della scienza, Trento e Museo della Montagna, Torino; Il Complesso della mummia, curato a Matteo Pollini, Palazzo Monti, Brescia. Mostre personali "Taixunia", Dimora Artica, Milano; "Between the Glimpse and the Gaze", curata da Richard Hylton, James Hockey Galley, UCA Farnham, UK; "Seamlessness", curata da Elena Forin, Galleria Massimo de Luca, Venezia. Vince il contest "Le stanze di Ferenc: Carta da parati e nuova progettualità", per Villa d'Este, Tivoli, Roma. Finalista Premio Cairo, Palazzo Reale Milano, 2014. Vincitrice Premio Combat Prize, categoria video, 2013. Vincitrice del Red Mansion Art Prize, promosso da Red Mansion Art Foundation, residenza a Pechino per il Central Saint Martin College, 2012.
Galleria Macca is proud to present Aliena Comune, a group show with works by Irene Balia (b. 1985), Ruben Montini (b. 1986), Veronica Paretta (b. 1986) and Giusy Pirrotta (b. 1982), and the critical text by Efisio Carbone, Artistic Director of Museo MACC. The exhibition will be open until Thursday, 30th April 2021.

ALIENA COMUNE [COMMON ALIEN]

If we were able to listen to others, we would discover that we are not so alone. Life experiences are quite similar, they are just lived differently, perhaps, better still, told differently.

Fears, modesty, fragility, everyone has got their own reasons.

But today, just for today, just to start, let's raise our hands and declare ourselves "out on purpose", in other words, aliens. Our hands are hands that think and sing, courageous, solitary in the multitudes, among other hands that resemble each other and count, dig, collect and wash themselves in springy and marshy thoughts.

Oh sweet hands pure and gentle[i], Cavaradossi sings holding Tosca's bloody hands, a tragic heroine, who killed for the love of herself, for his love, she found the courage, ready for the extreme act of suicide.

MOTHER
In "The Gospel according to St. Matthew", Pasolini chose his mother to play Mary who grieves along the Calvary of her son, they will kill him and she knows it. She has been ready for quite some time. The melancholic gaze she has in Fra Angelico humble cell while the merciless Angel reveals the Scripture to her, already says it all.
From within your kindness my anguish grew[ii] – Pasolini wrote, devoting his life to solitude out of too much love for his mother.
O son, Thy soul is flown, a frenzied woman's own, Hers who is lost and lone[iii]… where is the mother crying for her son, in Ruben Montini's work? Distant, she cannot assist a suffocating body, along with many stories of lonely death from a world in pandemic. With his poetics, Montini exalts the power of timeless tragedy, pushing the condition of motherhood to the limits, whether it is lived or denied. And it involves three female artists who give back a very personal vision of the theme, resulting in a kaleidoscopic and choral staging with a complex direction.
HANDS

Ruben Montini's hands tell, pray, say beyond closed mouths, weaving sacred amulets such as the Sardinian Nudeus, heart-shaped reliquaries with fragments of blessed brocade and scraps of prayers to obtain forgiveness beyond death. They are merciless hands that abandon a mangled body, where marble is no longer flesh, between the fingers of an ageless mother.

Perinde ac cadaver[iv] - that is Veronica Paretta's crouched body, confined to a space on the edge of the body, out of breath, transported by the turmoil of life. The body resists, the thought survives, the artist never ceases to breath. The frottage gives the works a performative feel, key to the entire abstract-realistic composition.
Hands and head for an apotropaic reading of Giusy Pirrotta, her ceramics, full of symbolism, look to a familiar East, a baroque South illuminated by history and mythology; the skill in modeling and taming fire tells of extraordinary workshops where skills were passed from hands to hands, generation to generation.
Under the stormy waters, Irene Balia finds the noble simplicity and quiet Winckelmaniaesque grandeur, needed to represent an all-female family tree; marine decorations and impenetrable references to multi-level relationships make the work, in some ways, inaccessible yet one cannot stop to contemplate it.
[Efisio Carbone]
______________
i Giacomo Puccini (1858-1924), Tosca, Act III, O dolce mani
ii Pierpaolo Pasolini (1922-1975), Supplica a mia madre / Prayer to my mother
iii Jacopone da Todi (1230-1306), The Crucifixion, Laude
iv Lat. "as if a dead body"
BIO
Irene Balia (lives and works in Milan). Graduated at the Academy of Fine Arts of Sassari in 2009, in 2013 her first solo-show at Circoloquadro in Milan, selected for the CO.CO.CO. Contemporary Contest Como Prize (Michetti award), and the Lissone Prize in 2014. In 2017 she produced a site-specific mural at the Cittadella degli Archivi in Milan. In 2019 the group show ar Castello di Oldofredi, curated by Casa Testori. In 2020 her artistic residency at Fondazione MACC in Calasetta, a group show at Museo Nivola (Back_Up | Giovane Arte in Sardegna) in Orani, and at Galleria Macca in Cagliari, Sardinia. She was part of Enzo Cannaviello's project "New Italian Painting". Her work is part of public and private collections, both national and international. In her works she recreates a domestic environment, a calm and static space of intimacy and the feeling of an expanded moment. The paintings are transformed into frames, pieces of a personal sphere which distance themselves from the time dimension, becoming unattainable. Everything is rebuilt through geometry and embroidery. There is no spatial perspective but only an emotional dimension, a dreamlike and symbolic feel.
Ruben Montini (lives and works in Turin). Interpreter of the queer culture and heir to the social claims of the 60s and 70s, he expresses its precariousness with the performative language and tells the resistance with the installation. His visual poems, made of letters in Sardinian brocade, texts sewn with references to the aesthetics of tradition, fix intimate moments as parables of social life; they tell the love, the fear, the sexuality of the individual in his contemporaneity. He has participated in numerous international exhibitions, in public and private institutions, among others: (solo) Did you ever fall in love again?, Villa Adriana, Tivoli; (solo) Madre, Aleš South-Bohemian Gallery, Hluboká nad Vltavou; (solo) Il vuoto addosso, Prometeogallery di Ida Pisani, Milano; We will not change our show, Dům umÄ›ní mÄ›sta Brna, Brno; (solo) I couldn't live without, MKC, Spalato; MAN, Nuoro; Museum Europäischer Kulturen, Berlino; Royal School of Needlework, Londra; Bang! Festival!, Bruxelles; Assemblaggi Provvisori, Tenuta dello Scompiglio, Lucca; Pomada, Museum for Contemporary Art Ujazdowski Castle, Varsavia; Vanità/Vanitas, Museo Ettore Fico, Torino (2015); (solo) Cosa Resta di Noi – Requiem, Oratoire du Louvre, Parigi; Turtle Salon in the Forest, Fargfabriken, Stoccolma; Bienal del Fin del Mundo, Buenos Aires. In 2019 he was nominated for the 20th Cairo Prize, Palazzo Reale, Milan. In 2020 he started CONFINO in his home-studio, an artist-run space where a program entirely dedicated to young Italian gay artists or those who live in Italy permanently will be hosted.

Veronica Paretta (lives and works in Cagliari). Graduated in Painting at the Academy of Fine Art of Bologna in 2011 she had her first solo show at Galleria Capitol in Cagliari, with works made between 2005 and 2011. In the same year she partecipated to the 54th Venice Biennale, Padiglione Italia in Sala Nervi, Turin. In 2013 and in 2016 she participated to two residences organised by Casa Falconieri in Cagliari, and she participated to a group show at Museo Nivola ("Geografie del Segno"), in Orani. Her artistic research focuses on the pictorial and engraving language. In 2017 her first solo-show at Galleria Macca, in Cagliari. Between 2016 and 2018 she participated to various group shows in Sardinia; she participated to Turin International Book Fair and ArtMadrid. She teaches engraving in various public and private schools, as well as at Musei Civici in Cagliari, and Museo MACC in Calasetta. Her work is part of private and public collections, both national and international.
Giusy Pirrotta (lives and works in Milan). Her work includes the use of films, video, photos, ceramic, printing on fabric and wallpaper. She works on site-specific installations and immersive sculptures, mostly in ceramic. Her work explores the limit between visual art, craft and design. She graduated at the Academy of Fine Arts in Florence, then she got the MFA at Central Saint Martin College of Arts and Design in London, where she had possibility to use film as a tool to analyse the materiality of moving images. She has also been a researcher at the UCA University for Creative Art / University of Brighton with the PhD thesis "Moving Image and the Space around the Frame: Time-based Installations and Forms of Experience". Recent group exhibitions include: "Aliena Comune", Galleria Macca, Cagliari; "Tree Time" curated by Andrea Lerda, Muse Science Museum, Trento and Mountain Museum, Turin; Mummy Complex, curated by Matteo Pollini, Palazzo Monti, Brescia. Personal exhibitions include: "Taixunia", Dimora Antica, Milan; "Between the Glimpse and the Gaze" curated by Richard Hylton, James Hockey Gallery, UCA Farnham, UK. She was awarded the prize "Le stanze di Ferenc: Carta da parati e nuova progettualità" at Villa d'Este, Tivoli, Rome. She was selected for the Cairo Award, Palazzo Reale Milan, 2014. And the recipient of the Combat Prize, video category, in 2013, and the Red Mansion Art Prize, promoted by Red Mansion Art Foundation, and a resident in Beijing with the Central Saint Martin College, in 2012.
Attachments