TOMM EL-SAIEH
THE LOOK | MAY 26 - JUNE 30 | 2016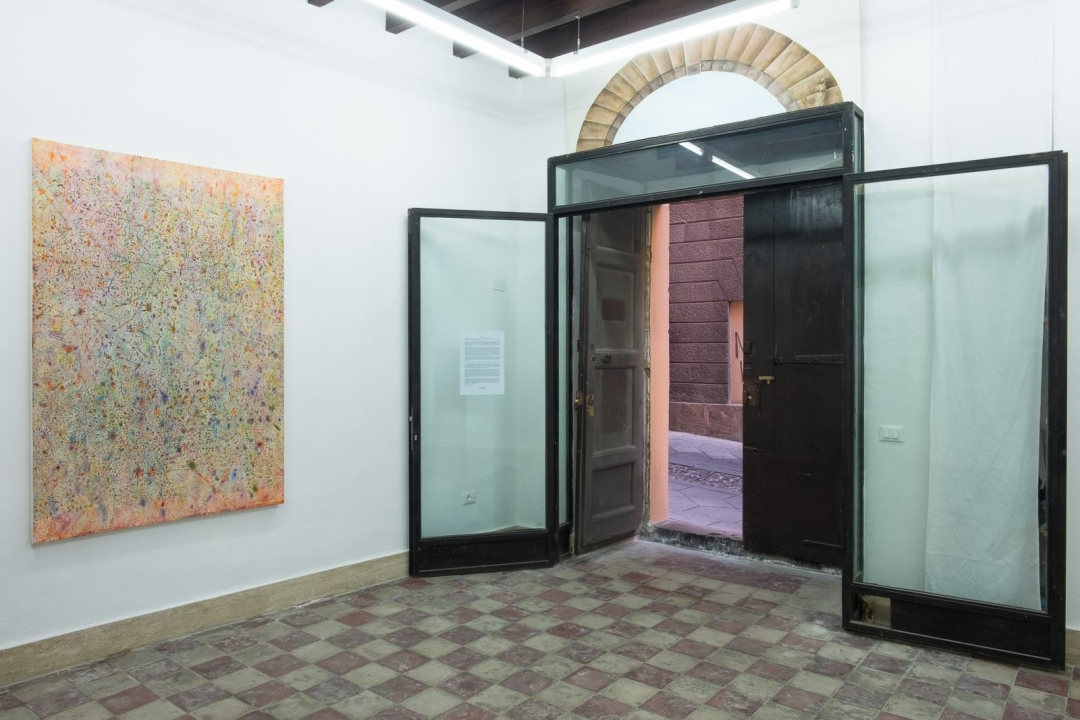 Galleria Macca e' lieta di ospitare la prima mostra personale di Tomm El-Saieh (Port-au-Prince, 1984) in Italia, e in Europa, che si terra' dal 26 maggio al 30 giugno 2016.

La sua mostra The Look all'interno della collettiva Gucci Vuitton all'ICA di Miami nel 2015 sanciva probabilmente lo stato delle arti visive nella sua Haiti natale. Quella mostra sembrava indicare che l'arte Haitiana sia sguardo e piacevolezza, entrambi uniti non tanto dall'ideologia ma piuttosto dall'apparenza.Nel proseguire la sua ricerca su The Look, Tomm estrapola quella premessa in quello che e' forse uno sguardo sull'astratto, uno sguardo incombente sulla percezione della pittura prodotta a Haiti, e inoltre, uno sguardo sulla sua stessa pratica.

Nato e cresciuto a Port-au-Prince a Haiti, Tomm El-Saieh si e' reso velocemente conto della relazione tra l'aspetto delle opere d'arte e come si sia condizionati a seconda dei diversi contesti, inevitabilmente creando un'astrazione della sua percezione. Si puo' affermare che ogni aspettativa basata sull'apparenza di un opera d'arte, per definirla, produce spesso una posizione analitica tale che, come ogni apparenza, la sua astrazione sconvolge l'apparenza costruita. Di conseguenza, non si riesce a focalizzare su un'aspetto in particolare, e questo implica che le definizioni vengano cancellate da un processo intuitivo e additivo dove le forme risultano sfuggenti. Nei suoi dipinti quello che colpisce sembra essere costantemente variato, connettendo la struttura e la presentazione, il suono e il ritmo, la somma di segni che riempiono le sue luminosissime tele. Cio' che traspare e' che questi dipinti sono "vivi", dato che e' praticamente impossibile scannerizzare e ricordare la miriade di segni che li compongono, usando i soli occhi.

Criticando e allo stesso tempo abbracciando il suo background, il lavoro di El-Saieh e' in continuo movimento, il suo significato va al di la' della sua narrativa e del formalismo che enfatizzano i suoi segni astratti. The Look e' lo sguardo di Tomm El-Saieh, che, come un drone, sorvola e scannerizza ogni centimetro delle tele, popolandole di una visione che sembra astratta, andando al di la della loro rappresentazione.

Diego Singh, Miami, 2016


La mostra sara' visitabile ogni Martedi', Giovedi' e Venerdi' dalle 19 alle 20.30, o su appuntamento
Galleria Macca is pleased to present Tomm El-Saieh's first solo-show in Italy and in Europe, from 26th May to 30th June 2016.

The Look at Gucci Vuitton that was perhaps an essay on the state of affairs in the visual arts in his natalHaiti. In that exhibition he seemed to indicate that Haitian art has a look and a likeness that is bonded not so much by ideology but rather by its appearance. In this unfolding of 'The Look', Tomm extrapolates that premise into what is perhaps the look of abstraction, the look of what looms over the perception of painting produced inHaiti, and moreover, a gaze/surface that comes under self-scrutiny.

Growing up in Port-Au-Prince, El-Saieh became aware of the relationship between how art-objects looked and how a body is conditioned/perceived by and in a certain context, inevitably producing an abstraction of its own perception. We can say that all expectations placed on the body's appearance, in order to frame it, eventually produce such analytic stance, and like all views this abstraction problematises the constructed gaze. Consequently, the focus is ever shifting and that unfolding implies that definitions are canceled-out by an intuitive and additive process where forms remain elusive. In his paintings what emerges appears to be in constant reformatting, relating its structure to presentations, to sound and rhythm and to the sum of marks and punctuations that take over these dry and luminous works. What is evident is that these painting remain 'alive' due to the impossibility they pose on the eye to 'scan' and remember/retain the myriad of marks that compose them.

As something that inherently criticizes and embraces its own background, El-Saieh's work remains on-the-move from itself, and in that titillation, their speech is enacted away from the demands of the narrative and the figurative; or the formalism that emphasizes a re-enactment of the empty signs of abstraction. The Look that appears here is El-Saieh's gaze, drone-like, hovering and scanning every centimeter of the canvas, populating it with a vision that seems hyper-focused and generationally distracted/abstracted, mapping what seems to stand outside representation.

Diego Singh, Miami, 2016
Attachments