RUBEN MONTINI
La Vestizione della Sposa | MARCH 18 | 2016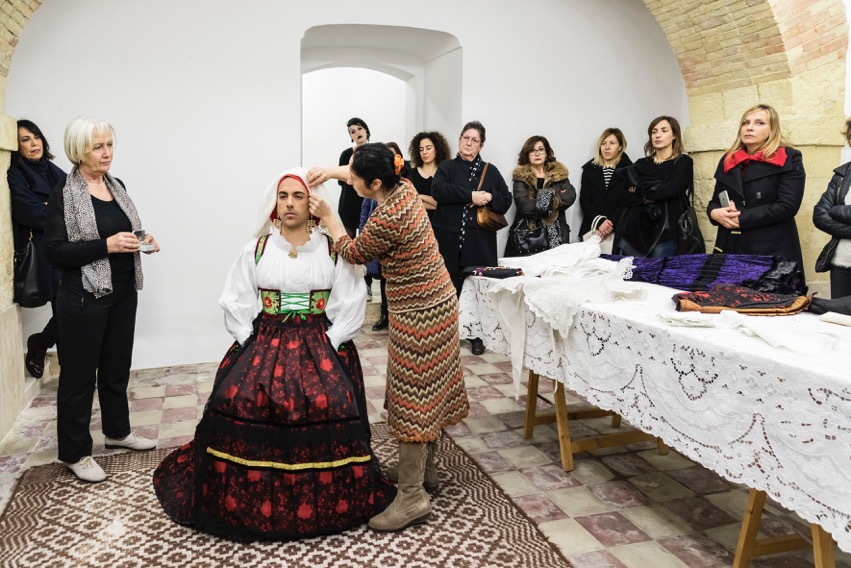 Galleria Macca è lieta di presentare l'inedito lavoro di Ruben Montini: La Vestizione della Sposa, performance per sole donne.

Per la sua prima performance in Sardegna, sua terra d'origine, Ruben Montini si presenta come un dono da adornare, una sposa da abbellire, un luogo da rendere familiare.

Amore, famiglia e familiarità, diverso, comune e non comune, cliché da arricchire secondo traiettorie meno scontate: paradossi, forse, che si incontrano nel nuovo progetto performativo dell'artista in cui, sintetizzandosi nella figura iconica della sposa, il suo corpo diventa quello sociale dove sogni, progetti e aspirazioni cercano terreno fecondo, aperto a nuove forme di vita e di interpretazione della stessa.

Se da un lato la ricerca di Ruben Montini si concentra sulla riappropriazione di alcuni luoghi comuni legati all'idea di femminilità ed effeminatezza, mettendo in cortocircuito l'idea di domesticità femminile, all'interno di un'estetica queer che mira alla creazione di una società onnicomprensiva, in questo progetto l'artista ne diventa emblema assoluto, nel tentativo quasi logorante di incarnare quel simbolo tradizionale che racchiude in sé l'idea di madre ancora prima dell'idea di donna.


Il progetto è stato realizzato grazie alla preziosa consulenza di Marco Nateri, al supporto della Sartoria Rita Cossu di Pabillonis e della Gioielleria Cilloco di Cagliari, e la collaborazione di Efisio Carbone.




Galleria Macca is pleased to present Ruben Montini's latest performance, La Vestizione della Sposa | Attirement of the Bride.

During his first performance in his homeland, Sardinia, Ruben Montini will present himself to a female-only audience, as a gift to be gilded, a bride to be embellished, a place that will soon be familiar.

Love, family and intimacy, other, common and uncommon, and less obvious clichés constantly developing: paradoxes, perhaps, found in the artist's latest performative project, in which, by representing the iconic figure of the bride, his body becomes the social body where dreams, projects and hopes look for a fertile ground for new forms of life and interpretations.

Ruben Montini's work, usually, is based on the re-appropriation of some clichés related to the idea of femininity and effeminacy, somehow breaking the idea of female restraints, included in a broader queer aesthetics which aims to create a more comprehensive society. Here, however, the artist becomes the absolute emblem, in an attempt – somehow wearing – to incarnate the traditional symbol of the bride, that encloses the idea of a Mother before than of a Woman.


The project was developed with the valuable contribution of Marco Nateri, the support of Sartoria Rita Cossu and Gioielleria Cilloco, and the assistance of Efisio Carbone.
Ruben Montini, La Vestizione della Sposa, 2016
documentazione fotografica della performance presso la Galleria Macca, Cagliari
ph: Ela Bialkowska - OKNOstudio
courtesy of the artist
Attachments