OMAR RODR─║GUEZ-GRAHAM
EL MANTO | SEPT 16 - OCT 29 | 2016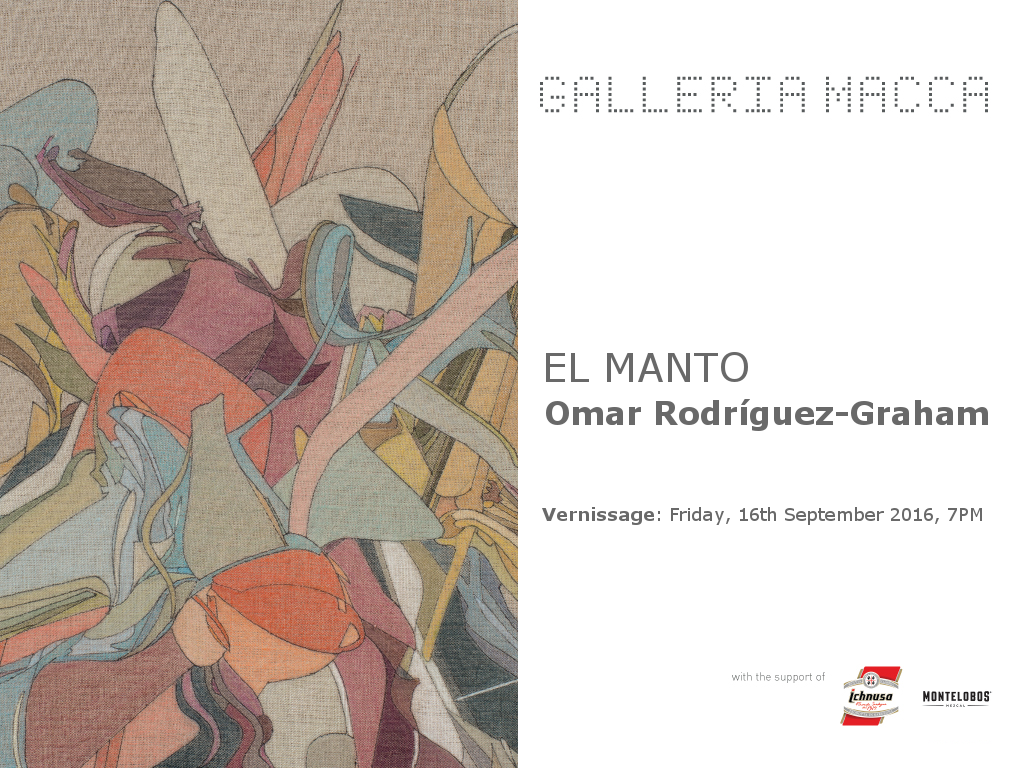 Operare costantemente sulla decostruzione e ricostruzione del linguaggio pittorico, questo uno dei punti fondamentali della ricerca di Omar Rodríguez-Graham, artista messicano, classe 1978, formatosi negli Stati Uniti, il cui lavoro è oggi riconosciuto e apprezzato tra Messico, Stati Uniti, Europa e Sud America. La perfetta padronanza pittorica permette all'artista di muoversi con spregiudicatezza passando dalla figurazione all'astrazione in un continuo rimando di contenuti e linguaggi spesso dichiarati ed immediatamente sovvertiti. Un esempio sono le carni di bovino squartate dipinte in omaggio ad una straordinaria tradizione che muove da Rembrandt per arrivare a Soutine e agli ultimi casi di Jenny Saville, esposte, alcuni anni or sono, alla galleria Arróniz a Città del Messico. Forza e vigore, date in formidabili pennellate di luce, si ricompongono nel silenzio di grandi cavalli magistralmente variati in una serie intitolata "Variazioni su tema" e presentata nel 2011 nella stessa galleria. La grande abilità pittorica è sempre e comunque al servizio di un pensiero che indaga costantemente il rapporto tra arte e illusione. "Ogni arte ha origine nella mente umana e nelle nostre reazioni al mondo, piuttosto che nel mondo visibile, e proprio perché ogni arte è 'concettuale', tutte le rappresentazioni sono riconoscibili dal loro stile"… questo pensiero di Ernst H. Gombrich sembra costantemente evocato nelle opere del nostro artista, in particolare, quando il confine tra figurazione e astrattismo si fanno labili. L'alfabeto dell'arte figurativa di tradizione occidentale è saccheggiato e riscritto in un ordine nuovo che si fa carico di secoli di storia; in "Eternal Return", serie di lavori del 2014, ritroviamo grandi affreschi di gusto barocco, iridescenti cieli tiepoleschi, campiture di colori aspri espressionisti, il cubismo orfico, velocità e movimento dell'action painting, il gusto pop, fino ai tondi pittorici di Damien Hirst la cui creazione non è però costantemente controllata, come nelle tele di Omar, ma lasciata all'azione 'non umana' della forza centrifuga.
I lavori della serie "El manto", di piccole dimensioni (34 x30 cm), offrono brani di delicata quanto intensa poesia, sono tutti realizzati a matita su tela di lino grezzo e sembrano rimandare a mondi di tessuti dipinti impreziositi da articolati ricami. Tra i primi a partecipare delle sperimentazioni anamorfiche per soddisfare la necessità di rappresentazione prospettica nelle tele quattro-cinquecentesche, i finti panneggi si sono arricchiti di articolati motivi geometrici e fitomorfi hanno coperto dei e santi, vestito Madonne cortesi, riflesso ori abbaglianti, dando movimento, peso e volume alla storia per renderla verità. Da Piero della Francesca a Beato Angelico, attraverso i delicati racemi fioriti della Primavera di Botticelli, fino agli straordinari studi chiaroscurali di Leonardo, i lavori di Omar Rodríguez-Graham arrivano ad intercettare forme calligrafiche orientali di sete dipinte e voluttuose forme curve dal gusto liberty. Il velo è tessuto ma anche diaframma che si interpone tra l'immagine e l'occhio, sottile impalpabile confine tra il reale e la sua rappresentazione.
Efisio Carbone
===============================================================================================================
Deconstructing and reconstructing the pictorial language, that is one of the main characteristic in Omar Rodríguez-Graham's work, born inMexico Cityin 1978, whose work of art can be seen and appreciated inMexico,United States of America, Europe andSouth America. His great pictorial skills allow the artist to switch from figurative to abstraction in a constance reference to content and languages often proclaimed but immediately subverted. We may find a good example of this in his series of quartered animals exhibited a few years ago at Galeria Arróniz in Mexico City, where he pays homage to the extraordinary tradition that goes from Rembrandt to Soutine and most recently Jenny Saville. In his series "Variaciones sobre un tema", presented in 2011, strength and vigour are restored in the silent horses through luminous brushstrokes. The great artistic ability is always at the service of a thought that constantly investigates the relationship between art and illusion. "All art originates in the human mind, in our reactions to the world rather than in the the visible world itself, and it is precisely because all art is 'conceptual' that all representations are recognizable by their style"… Ernst H. Gombrich statement seems constantly evoked in Omar Rodríguez-Graham's research, in particular when the boudary between figurative and abstract representation is so labile. The alphabet of the Western figurative art's tradition is rewritten in a new order that handles centuries of history; in his 2014 series " Eternal Return", we find a mix of majestic baroque frescoes, Tiepolo-esque iridescent skies, harsh colours of expressionist backgrounds, Orphic Cubism, action painting's speed and movement, pop art, even the round paintings of Damien Hirst, whose creation is not, however, constantly controlled like in Omar's, but is the result of the non-human action of the centrifugal force.
The works from the series "El manto" are all small drawings on linen canvas (34 x30 cm), an array of delicate and intense poetry, that seems to relate to worlds of painted fabrics embellished with a sumptuous embroidery. Among the first to be part of anamorphic experiments to satisfy the need of perspective representation in the XV and XVI Century paintings, draperies have been enriched with geometric and phytomorphic motifs, covered Gods and Saints, dressed gracious Madonnas, reflected dazzling golds, giving movement, weight and volume to turn the painting into a truthful story. From Piero della Francesca to Beato Angelico, through the delicate Spring blossoms of Botticelli, to Leonardo's extraordinary use of chiaroscuro, Omar Rodríguez-Graham's work incorporate both the Oriental calligraphic forms we find on painted silks and the voluptuous shapes of the Liberty style. The veil is a fabric but, at the same time, it is also a baffle placed between an image and the eye, subtle impalpable boundary between reality and its representation.
#GalleriaMacca #OmarRodríguezGraham
Ph. courtesy of the artist